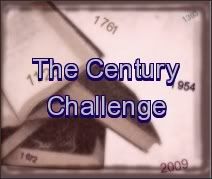 Bookish Ardour is sponsoring The Century Challenge, which will run from January 1, 2011 through December 31, 2011.
The books selected will be decided by publication year and have to be read in order from the time period chosen.
I've decided to participate at the
Decade level
which means I will read 10 books from one decade.
Here are my choices:
1970:
The Bluest Eye
by Toni Morrison
1971:
Mrs. Frisby and the Rats of NIMH
by Robert C O'Brien
1972:
Watership Down
by Richard Adams
1973:
Summer of My German Soldier
by Bette Greene
1974:
The Chocolate War
by Robert Cormier
1975:
Tuck Everlasting
by Natalie Babbitt
1976:
Roots
by Alex Haley
1977:
Song of Solomon
by Toni Morrison
1978:
The World According to Garp
by John Irving
1979:
The Hitchhikers' Guide to the Galaxy
by Douglas Adams
For more info or to participate, please click on above image.